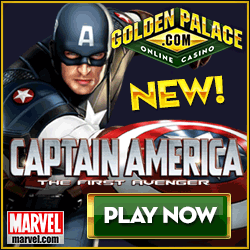 Play Red Dog
So! You wanna play red dog poker? That's great, because this is the place to find out how! My name's Dale, and I created this site for people just like you, who have heard about this great game, and want to play red dog poker, but just can't find a good site that explains it well. Sure, there are lots of sites out there that mention red dog poker, but there aren't any that I've found that are totally dedicated to information about the game, and instructions on how to play red dog.

If you've been at my site for a while already, you may have some idea about the game by now. Well, I can tell you that it's a fast-paced, exciting, and easy game to learn. And to play red dog, you don't need any special skills, like you might expect to, with the word poker in the name. The fact that it's referred to as a type of poker is kind of unfortunate, because it's really not a poker game at all. There are only two things that link it to poker in any way; you play with cards, and when you bet, it's called a "Raise" or a "Call". But the raise could just as easily be called a double, because that's what happens when you decide to raise. By the way, my red dog strategy page has more info about how and when you should raise your bet. On the other hand, when you "Call", you're basically saying "Stand" like in Blackjack. You're just letting your bet stand as it is, and you want the last card to be dealt.

OK. I hope you're not getting too confused. I'm assuming that you already know about the basics of how to play red dog poker. If you don't, just go to my red dog rules page, and get the groundwork on the game from there. Then you can come back and read this page some more.

Sometimes I think the game could have a better name. At least the word poker could be removed, but that's what draws people to play red dog poker. Poker conjures up images of the Old West, Saloons, dancing girls, shootouts, tumbleweed, horses, … you get the picture. When you play red dog, you'll probably be playing online these days, as it's not such a popular game at the land-based casinos anymore. So if you're sitting at home in front of your computer with your feet up, some good music on, etc, you might not get the whole Wild West imagery going on in your head. You'll probably be too busy playing anyway.

You may have figured out by now that there's not much to it when you play red dog poker. You bet, two cards are dealt, you call (stand) or raise (double), and the third card is dealt. You win or you lose. That's really all there is to it.

I'm glad you decided to come to my site, and find out about what it's like to play red dog poker, and how to win at it. I hope you enjoy browsing around, and be sure to take a look at my red dog info page, where you'll find some other sites that will have great gambling and casino information, and also some great resources for your further study of the game of red dog poker.